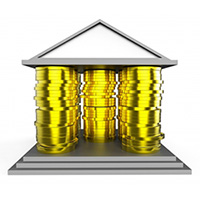 Mortgage loan also known as Loan Against property, is a process where a secured loan is provided by lender against the collateral of your property which can either be residential, commercial or industrial. Mortgage loan is provided at cheaper interest rate and longer tenure than unsecured loan like personal loan. The loan against property can be used for various purposes such as a business expansion, a wedding, investment in land/ property or any other non-speculative purposes. Mortgage loan can be accessed by both salaried and self-employed individuals. The lender does an assessment of the property's valuation and the loan amount is generally fixed between 45%-65% of the value of the property.
---
Advantages of Mortgage Loan:
1) The loan is available at lower interest rate and for a higher tenure than personal loans, gold loans or securities loan.
2) At the time of immediate money requirement or for business expansion, this option is much better than selling the property.
3) Generally there is no part-payment clause and so customers can prepay the loan as and when they want to without any additional costs.
4) For self-employed persons, mortgage loan is also available as an overdraft facility which helps them save interest cost as the interest is charged only on the money withdrawn from the loan account.
5) You are able to maximize the potential of your existing assets thereby earning greater returns on your investment.
---
Disadvantages of Mortgage Loan:
1) The loan process and documentation is more exhaustive than personal or gold loan. Hence in case of emergency, this maynot be the fastest way to get funds.
2) Lenders only offer anything between 45%-65% of the value of the property as loan which may not be enough to fulfil your requirement.
3) There are no tax incentives while paying the EMIs, unlike in the case of home loans. However, this is only in the case of a salaried person. A businessman can claim tax deduction on the entire interest amount paid on the loan if he can prove that the loan was genuinely used to improve his business.
4) There is a risk of losing your property if you default on your payment. The same is true for gold loan and securities loans as well but the loss of residential/commercial property is a bigger loss.
---
Various lenders like Axis bank, ICICI Bank, HDFC Ltd among others are currently offering Mortgage Loan at attractive terms. Use our free award winning engine to compare offers from various lenders. You can even shortlist the one you are interested in and we will contact you with further information on the same.Give it a go!